What is blackjack?
Blackjack, also known as 21 or vingt-et-un, is one of the most popular card games available at online casinos. One reason for its popularity is its simplicity and its low house edge. Blackjack is played between the dealer and a player. Depending on the variant, you can play this game with one, two, four, six, or eight decks of cards.
The aim is always the same — beat the dealer's hand with a score that is as close to, but not exceeding, 21 points as possible.
How to play
Blackjack is straightforward to play, but you do need to understand the game.
Blackjack Objective
The aim of the game is to beat the casino dealer. This can be achieved by:
Drawing a hand that scores higher than the dealer's hand value
The dealer's hand exceeds 21
Being dealt a natural blackjack (the first 2 cards dealt have a hand value of 21), when the dealer does not.
Playing the game
Before the game begins, you must set your wager. After that, you will receive two cards face up. The casino dealer also receives two cards, one face-down and the other face-up.
Now you must decide whether to Hit — draw another card — or Stand if you don't want a new card. In blackjack, you can hit as many times as you want, but you must ensure that your score doesn't go over 21. If you exceed 21, you are Bust and lose your bet.
Blackjack rules
If you're new to blackjack, you need to learn the basic rules to improve your winning chances. Below are some rules you should keep in mind while playing:
Standard wins pay 1 to 1 — This is when your hand value is closer to 21 than the dealer's hand
Blackjack wins pay 3 to 20 — This is when your first two cards equal 21
Hit or Stand — You can decide to draw new cards (hitting) or not (standing) to get their hand closer to 21
16 or below — The dealer must hit on a hand of 16 or less
Split — If you are initially dealt two identical cards, you can choose to divide your cards into two separate hands to increase your chances of beating the dealer
Double down — After being dealt your first two cards, you can double your bet, then you'll take one new card but cannot take any further cards.
Surrender — After being dealt your first two cards, you can fold before taking a third card and get half your bet back.
Blackjack strategy
Unlike slots or other games of chance, blackjack is a game of both luck and skill. For that reason, blackjack players can apply some of the strategies listed below to improve their hands while playing. However, players should note that these strategies don't 100% guarantee a win.
The Basic of Blackjack Strategy
With every hand you're dealt, you must decide whether you want to hit, stand, split, double down, or surrender. The right decision depends on the combination of cards that you and the dealer already have on the table.
You can find blackjack charts online that show the different hand combinations and the best decision to make to increase your chances of winning.
Card Counting
One advanced blackjack strategy is card counting, which uses mathematics to determine if a hand is likely advantageous to the dealer or the player. Therefore, players can decide whether to lower or increase their stake. This is done by monitoring the ratio of high to low cards remaining in the deck. Successful card counters can reduce the house edge to 1%.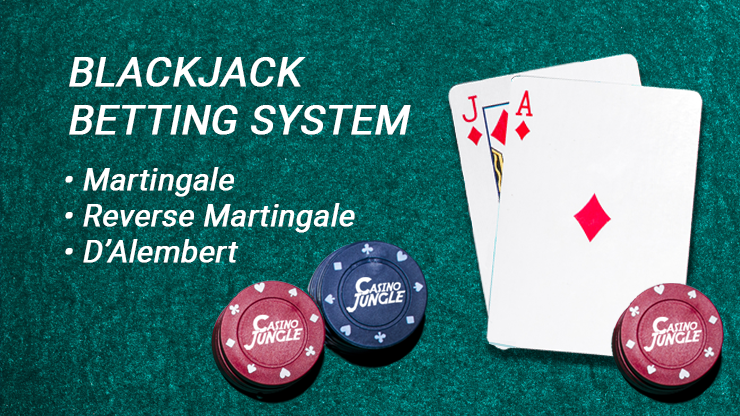 Blackjack Betting System
Though betting systems differ greatly from a game strategy, using one is another way to improve your winning chances. Here are the most common ones.
Martingale: Players should double their bet while losing
Reverse Martingale: Players should double their bet while winning
D'Alembert: Players raise their bet by one unit when they lose
What is every card worth?
In blackjack, the card values are as follows:
Cards 2 through 10 are worth their face value.
Ace counts as 1 or 11.
Picture or face card (Q, J, and K) count as 10.
Can I play blackjack for free?
Of course, you can play black jack online for free. Many US-licensed casinos provide virtual blackjack games that can be played in demo mode for free. This is a great way to learn and hone your blackjack skills before you play with your bankroll. Of course, you will not win real money playing in demo mode.
It's not possible to play live dealer games in demo mode.
What different kinds of blackjack types are there?
Apart from classic or American Blackjack, other popular variations you may find online include Spanish 21, Free Bet Blackjack, Blackjack Switch and others. Each with slight rule variations.
Play blackjack online
Playing black jack online is simple. First, choose a reputable online casino that is secure and licensed under the right regulatory authority. Choose from one of our recommended casinos, here.
Next, create an account and make a deposit. However, we recommend you try the game's demo version before playing with real money.
Can you play blackjack on your mobile phone?
Yes, you can. Modern games are designed using HTML5 technology to ensure compatibility with all mobile operating systems. In addition, some US-licensed casinos have a mobile app you can download onto your device in order to play their games.
Blackjack with a live casino dealer
US players who want to enjoy the real-live action online can opt for Blackjack with a live casino dealer. When you play live blackjack, the cards are dealt by a real dealer, and all the action is directly streamed to your desktop or mobile devices. Moreover, this is the closest you'll get to playing with a real person without visiting a physical casino.
Tips when you play blackjack online
Winning on blackjack is based on skill and luck, so wagering with real money is risky. Here are some tips to consider while playing:
Learn the rules and practice with a free version
Manage your bankroll — set daily, weekly, and monthly limits
Learn a strategy
Avoid making massive bets
Practice blackjack card counting.